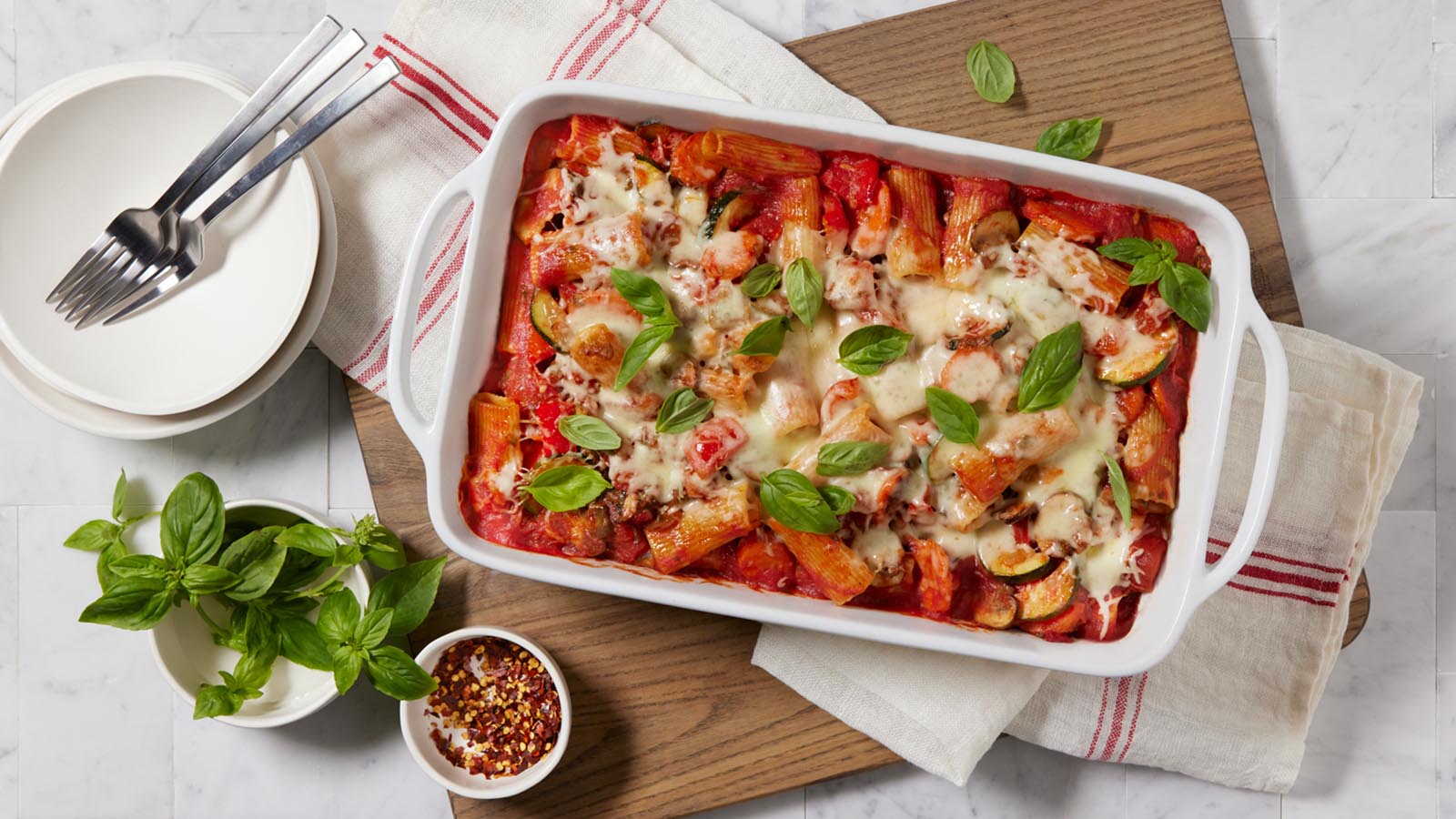 Five veggies make this baked cheesy pasta a fresh and hearty Italian dinner. For an easy twist with meatballs, try the variation using ready-made frozen meatballs. When possible, consider cooking with organically grown and responsibly raised ingredients to benefit the quality of your meal and the health of our planet.
Prep Time: 15 minutes
Cook Time: 40 minutes
Serves: 6
Ingredients
8 oz. uncooked ziti, rigatoni or penne pasta (about 3 cups)
1 Tbsp. olive oil or vegetable oil
1 medium yellow onion, chopped
2 1/2 cups sliced mushrooms (8 oz.)
2 large carrots, sliced into 1/8-inch-thick pieces
1 medium red bell pepper, cut into 1-inch pieces
1 medium zucchini, halved lengthwise and sliced into 1/8-inch-thick pieces
3 large cloves garlic, minced
1 tsp. smoked paprika
2 cans (14.5 oz. each) Take Root Organics™ Diced Tomatoes, not drained
1 can (15 oz.) Take Root Organics™ Tomato Sauce
1 pkg. (6 oz.) Shredded Mozzarella Cheese, divided
1/4 cup chopped fresh basil, plus more for garnish
Directions
Preheat oven to 400°F. Cook pasta in boiling water until al dente, about 2 minutes less than directed on the package; drain and set aside.
Meanwhile, heat oil in a Dutch oven over medium-high heat. Add onion, mushrooms, carrots, bell pepper and zucchini. Cook about 8 minutes, stirring frequently, until vegetables are softened. Add garlic and paprika; cook 1 minute, stirring constantly. Stir in diced tomatoes and tomato sauce; bring to a boil over high heat. Reduce heat to medium-high and cook 5 to 7 minutes until slightly thickened.
Stir in cooked pasta and basil. Spoon half of pasta mixture evenly over the bottom of a 13x9-inch baking dish. Sprinkle with 1 1/2 cups cheese. Add remaining pasta; sprinkle evenly with remaining cheese. Bake 15 to 20 minutes until sauce is bubbling and cheese is melted. Let stand 5 minutes. Sprinkle with additional basil before serving.
VARIATION: To make Meatball Veggie Pasta Bake, prepare as directed, except add 1 lb. fully cooked frozen meatballs, thawed according to package directions, when adding the cooked pasta and basil in Step 3.