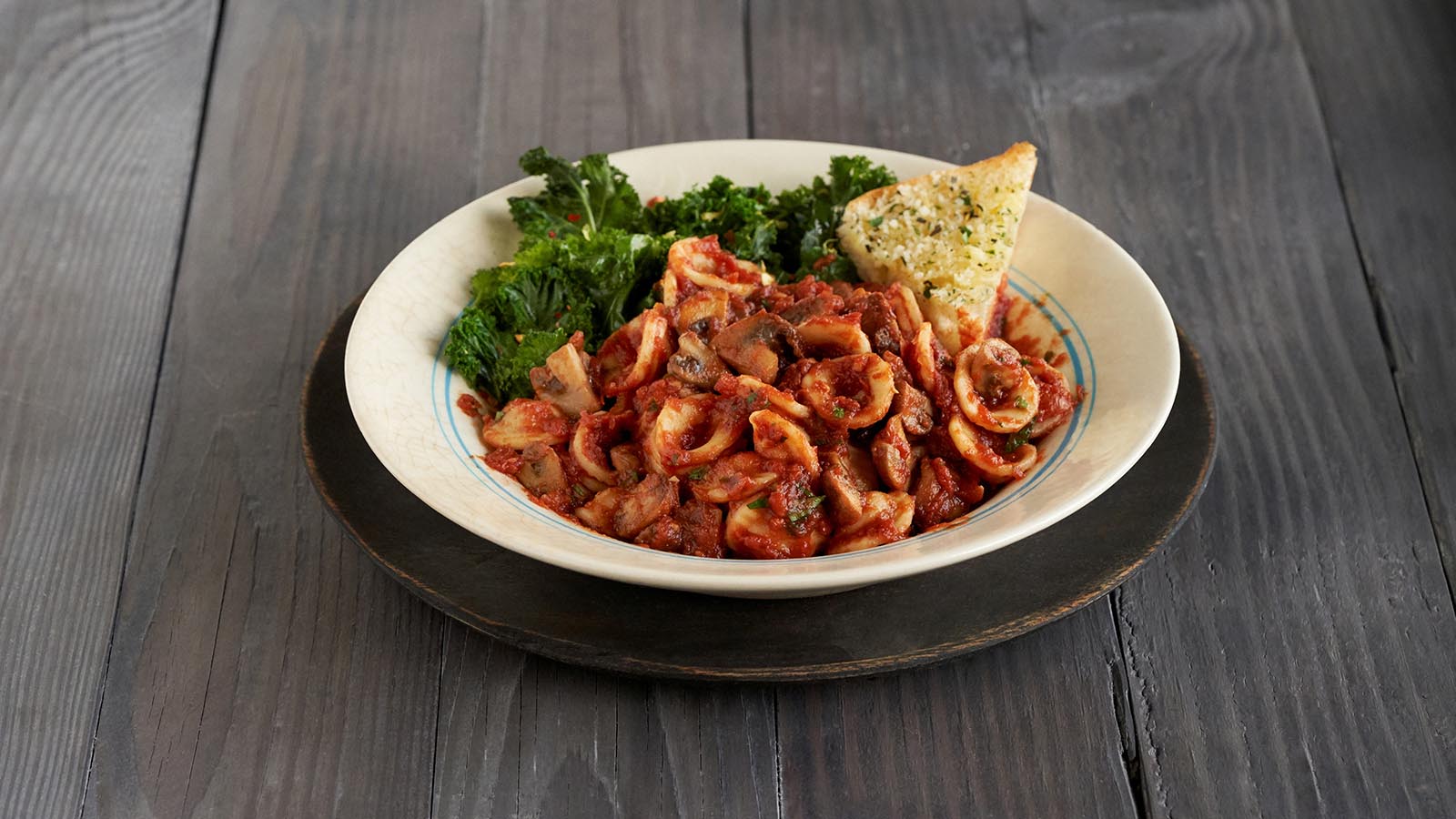 This vegetarian tomato sauce with a touch of rosemary and balsamic vinegar is a savory partner to ear-shaped pasta When possible, consider cooking with organically grown and responsibly raised ingredients to benefit the quality of your meal and the health of our planet.
Prep Time: 10 minutes
Cook Time: 40 minutes
Serves: 4 to 6
Ingredients
1 lb. uncooked orecchiette pasta, cooked
2 Tbsp. olive oil
1 cup diced onion
8 oz. white button mushrooms, quartered
8 oz. cremini mushrooms, quartered
1/3 cup Take Root Organics™® Tomato Paste
2 tsp. minced garlic
3/4 tsp. finely crushed dried rosemary
1 can (28 oz.) Take Root Organics™ Crushed Tomatoes
1 Tbsp. balsamic vinegar
2 Tbsp. chopped fresh Italian parsley leaves
Salt and freshly ground black pepper
Shaved or grated Parmesan cheese, for serving (optional)
Directions
Heat oil in a 12-inch skillet over medium-high heat. Add onion and cook until starting to brown, about 3 minutes. Add mushrooms and cook, stirring every few minutes, until browned and tender, about 8 minutes.
Cook pasta as package directs; drain and set aside.
Meanwhile, stir tomato paste, garlic and rosemary into mushrooms and cook 2 minutes. Add crushed tomatoes, vinegar and 1 cup water and bring to a simmer. Simmer over medium-low heat 20 minutes. Stir in parsley. Season to taste with salt and pepper. Serve tossed with orecchiette pasta garnished with Parmesan cheese, if desired.