Vegan Cauliflower Parmesan Steaks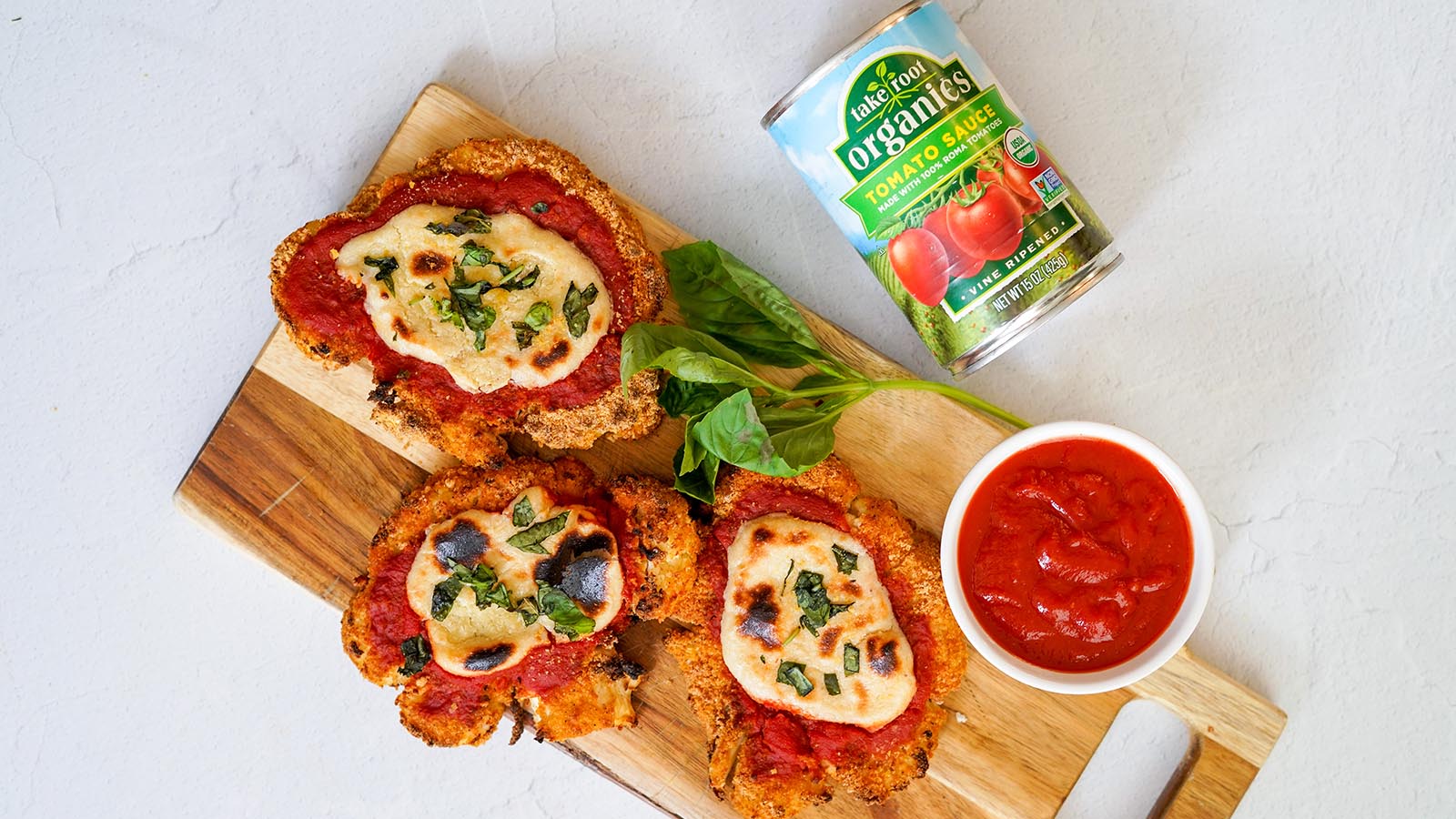 Recipe created by: Carleigh Bodrug @PlantYou
Enjoy these cauliflower steaks made with tomato sauce and cashew cheese for a vegan friendly twist on classic parm.
Serves: 4
From Start To Finish: 45 Minutes
Ingredients
1 large head cauliflower, sliced into four 1 inch wide steaks
1/4 cup fresh basil
BREADCRUMBS:
2 cups breadcrumbs
1 1/2 teaspoons paprika
1 teaspoon garlic powder
1 teaspoon dried basil
CASHEW CHEESE:
1 cup raw cashews, soaked in water overnight or boiled for 15 minutes
1/2 cup unsweetened coconut yogurt
1 teaspoon apple cider vinegar
1 teaspoon cornstarch
1/2 teaspoon garlic powder
1 teaspoon sea salt
1/4 cup unsweetened almond milk, more as needed
Directions
Preheat the oven to 400F and line a baking sheet with parchment paper.
In a shallow bowl, combine the breadcrumbs with paprika, garlic powder and dried basil.
Prepare a steamer pot with 1 and 1/2 inches of water over medium heat. Once simmering, add the cauliflower steaks two at a time, and steam for 5 minutes, until partially cooked.
Once the steaks are safe to handle, dip them into the breadcrumbs, fully coating the cauliflower on all sides. Transfer to the baking sheet, and bake for 15 minutes.
In the meantime, prepare the cashew "cheese". In a high speed blender, combine the cashews, yogurt, apple cider vinegar, cornstarch, garlic powder, salt and almond milk until smooth, adding more milk as needed to thin.
Remove the cauliflower steaks from the oven, and add a heaping spoonful of tomato sauce on each steak, up to 4 tablespoons per.
 Following the tomato  sauce, spoon the "cashew cheese" over top of the sauce to your desired amount. 
Place back in the oven for 15 minutes, on broil for the last two to make the cheese melty. Finish with fresh basil.