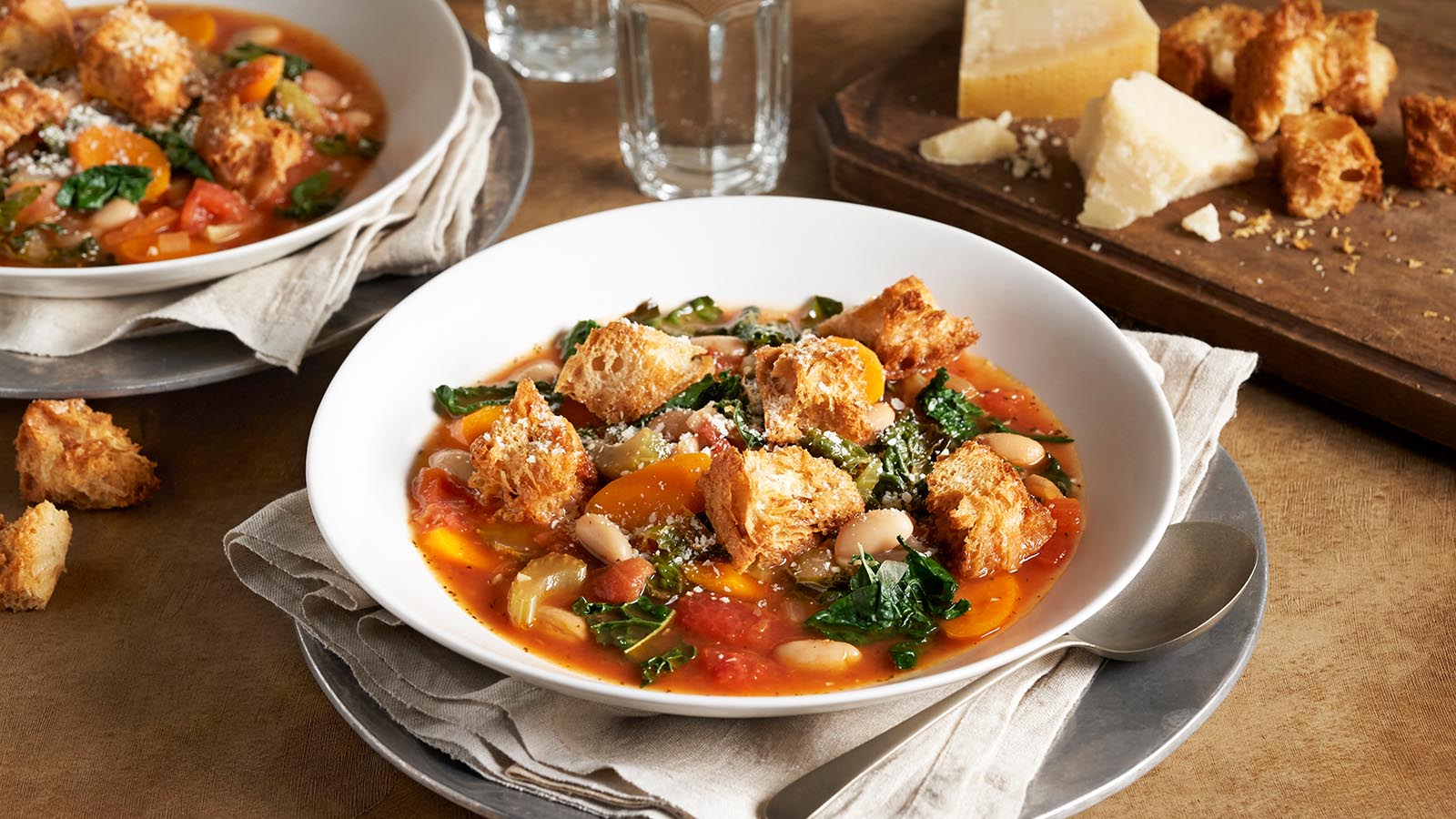 Ribollita, meaning "reboiled" in Italian, is a popular comfort food created to use up leftover vegetables and stale bread. This hearty white bean soup has plenty of vegetables and a Parmesan crouton garnish. Use vegetable broth instead of chicken broth for a vegetarian soup. When possible, consider cooking with organically grown and responsibly raised ingredients to benefit the quality of your meal and the health of our planet.
Serves 4 to 6
Prep time 20 mins
Cook time 30 mins
Ingredients
1 can (28 oz.) Take Root Organics™ Whole Tomatoes with Basil, not drained
4 slices 1-inch thick crusty, artisan-style bread
3 Tbsp. olive oil, divided
1/4 cup grated Parmesan cheese, plus additional for garnish
1 onion, diced
1 large carrot, cut into 1/4-inch thick slices
1 stalk celery, cut into 1/4-inch thick slices
3 cloves garlic, minced
1/4 tsp. freshly ground black pepper
3 cups Chicken Broth
1 can (15 oz.) cannellini beans, rinsed and drained
1 bunch (8 oz.) Lacinato or dinosaur kale, stemmed, leaves roughly chopped
1/4 cup chopped fresh basil
Directions
Preheat oven to 350°F. Pour the can of tomatoes into a medium bowl; cut tomatoes into bite-sized pieces using kitchen shears or crush with hands; set aside. Cut crusts off bread and tear into 1-inch pieces (2 cups) directly onto a rimmed baking sheet; drizzle with 1 Tbsp. oil and toss to coat. Bake 12 minutes; stir and move croutons together to one side of pan. Sprinkle evenly with Parmesan cheese; bake 3 to 5 minutes until crisp.
Meanwhile, heat remaining 2 Tbsp. oil in a Dutch oven over medium-high heat. Add onion, carrot, and celery; cook about 5 minutes, stirring frequently, until onions are golden and beginning to soften. Add garlic and pepper; cook about 30 seconds, until fragrant. Stir in tomatoes, broth, beans and kale; bring to a simmer.
Simmer about 20 minutes, partially covered over medium heat, until vegetables are tender, stirring occasionally. Serve soup topped with croutons and additional cheese.
TIP: Add a Parmesan rind along with the crushed tomatoes in Step 2 to add extra flavor to the soup as it simmers. Remove just before serving.