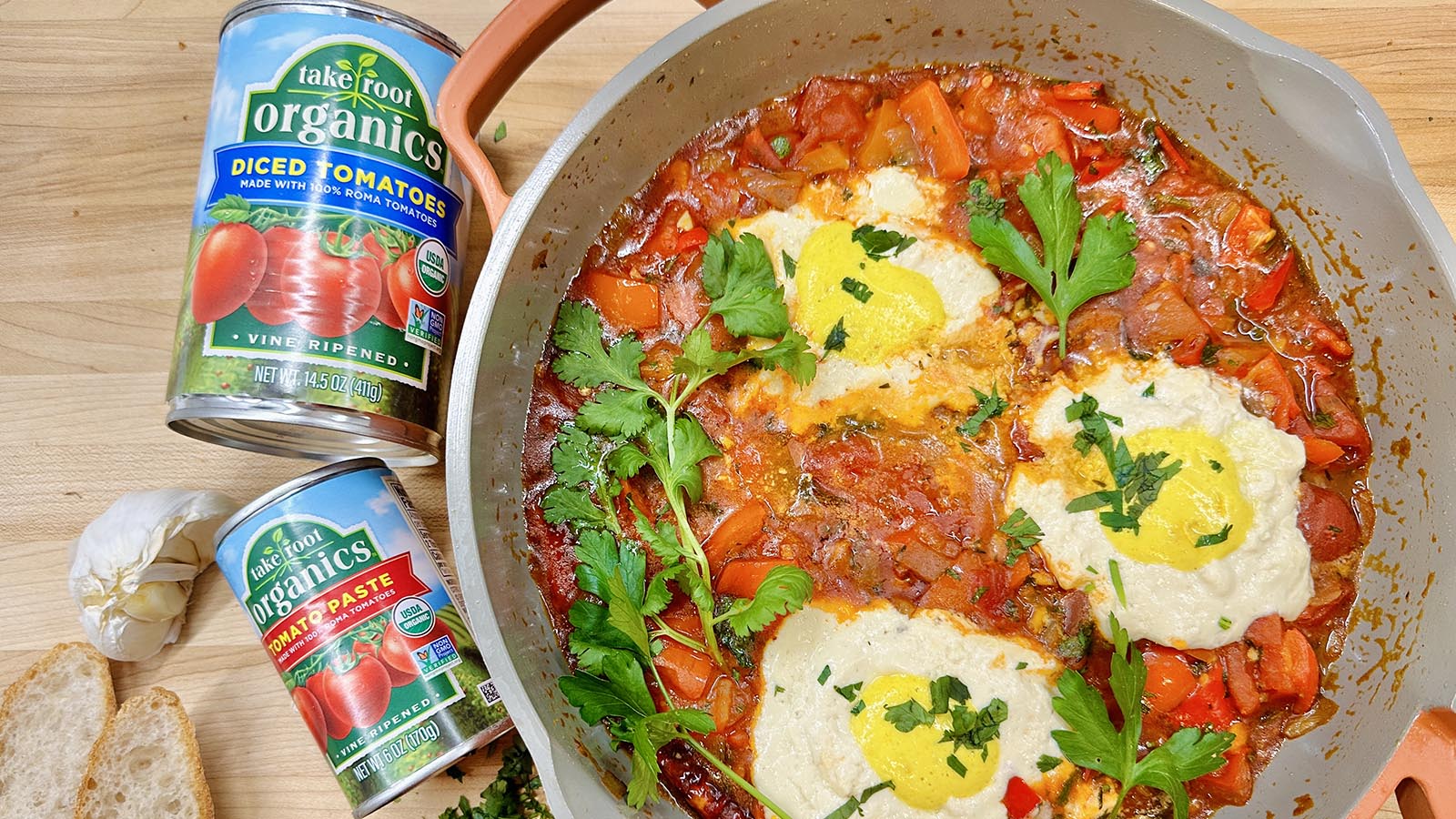 Recipe created by: Priyanka Naik @chefpriyanka
Make this vibrant shakshuka with tomatoes, olive oil, peppers, onion and garlic and spices. Use tofu to create a vegan 'egg' substitute.
Serves: 3
Prep Time: 15 minutes
Cook Time: 35 minutes
Ingredients
1 14.5oz can Take Root Organics™ Diced Tomatoes
1 Red Bell Pepper diced
½ large Yellow Onion - diced
4 cloves Garlic minced
2 Fresno Chilies minced
2 tbsp extra virgin olive oil
½ tsp Cumin Seeds
½ tsp Smoked Paprika
½ tsp Kashmiri Red Chili Powder (optional)
1-2 Whole Dried Chilies (optional)
½ tsp Dried Thyme
Kosher Salt to taste
1 tbsp Raw Cane Sugar
½ bunch each Fresh Parsley & Cilantro chopped
Baguette to serve
Directions
1. Heat oil in a large non-stick skillet over medium heat. Once hot, add in cumin seeds, onion, garlic and salt. Saute 2-4 mins. Add in bell peppers and fresno chilies. Saute another 2-4 mins until everything is sweating. Add in paprika, chili powder, thyme and more salt.
2. Create a well in the center and add in Tomato Paste and heat through. Next add in Diced Tomatoes, sugar, whole dried chili and some water. Mix and cover to cook for 15 minutes. Make Egg in the meantime. 
3. For the "egg", Blend together everything until smooth. Divide among 3 microwave safe ramekins. Microwave 2-3 mins on high until slightly set. 
4. When veggies are tender, mix in half of the chopped fresh herbs. Then gently add in tofu egg and top each with a dollop of "yolk" cover and cook another 10 mins until tofu is set and cooked through. 
5. Serve hot with baguette and more fresh herbs.