Tangy Tomato-Onion Brisket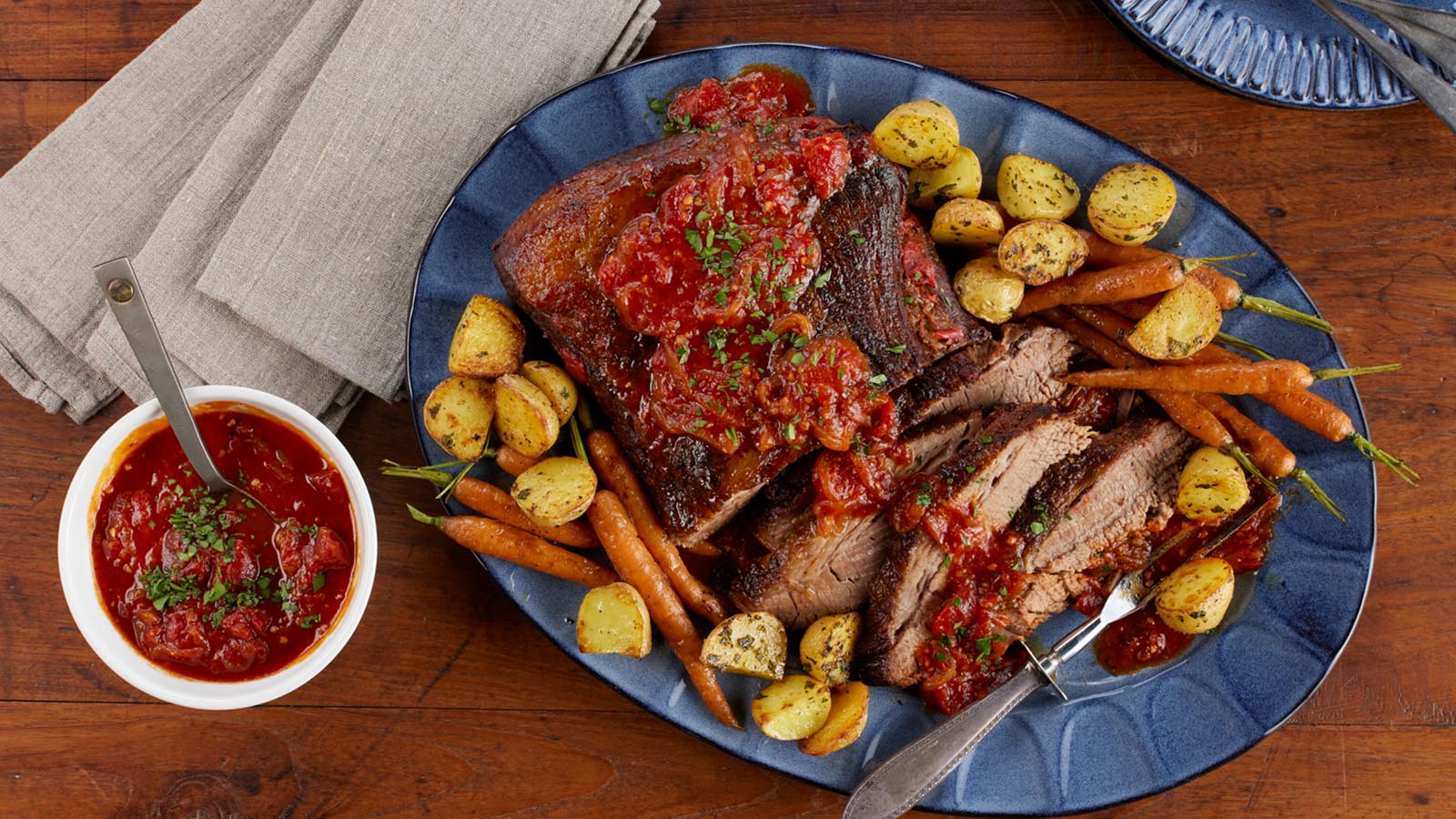 For a holiday centerpiece that's generous and simple to make, it's hard to top this brisket. Cook it the day before so the rich, tangy tomato sauce flavor absorbs into the tender meat. Slicing the meat is easier when it is chilled. For a complete meal, serve with roasted potatoes and carrots. Excellent at holidays, dinner parties and family gatherings. When possible, consider cooking with organically grown and responsibly raised ingredients to benefit the quality of your meal and the health of our planet.
Prep Time: 25 minutes
Cook Time: 3 1/2 hours
Serves: 10
Ingredients
5 lb. beef brisket, trimmed of some fat (see Tips)
Salt and ground black pepper
3 Tbsp. olive oil, divided
2 large (1 lb.) yellow onions, thinly sliced, about 4 cups
5 cloves garlic, minced
2 cans (14.5 oz. each) Take Root Organics® Diced Tomatoes, not drained
1 can (15 oz.) Take Root Organics® Tomato Sauce
1/3 cup honey
1/4 cup apple cider vinegar
1/2 tsp. dried thyme
1/4 cup water
Optional garnish: chopped flat-leaf parsley
Directions
Preheat oven to 350°F. Remove brisket from refrigerator 30 minutes before cooking and season all sides with salt and pepper (see Tips).
Heat 2 Tbsp. oil in a flameproof roasting pan over medium-high heat (see Tips). Add brisket and sear 3 to 4 minutes per side, until browned. Transfer brisket to a platter. In the pan, add remaining 1 Tbsp. oil and onions; cook about 4 minutes, until softened. Stir in garlic and cook 30 seconds, then add diced tomatoes, tomato sauce, honey, vinegar, thyme and water. Bring to a brisk simmer, then turn off the heat. 
Return brisket fat-side-up to the pan. Cover the pan tightly with aluminum foil, using oven mitts as necessary to protect your hands. Roast about 3 1/2 hours until the brisket is nearly tender when pierced with a fork. Remove the pan from the oven and uncover. Using a fork, gently flip the brisket over and let cool at room temperature for at least 30 minutes so the meat absorbs some of the sauce and becomes more tender. To serve, slice crosswise against the grain and place on a serving platter. Spoon some of the tomato-onion sauce on top and serve the rest of the sauce at the table. Garnish with parsley and black pepper, if desired.
TIPS
A whole brisket runs 10 to 12 lbs. and is often cut into two parts: the tip and the flat cut. The flat cut (sometimes called "center cut" or "first cut") is larger and more common to find. The tip is thicker, smaller and more marbled. If the brisket has already been portioned into 2- and 3-lb. pieces, buy two. (You can mix and match between the tip and the flat cut).
If there is more than 1/2 inch of fat on top of the meat, trim off the excess, but don't remove all of it for the best flavor.
To make ahead, prepare recipe as directed. Cool cooked brisket and sauce completely, then cover and refrigerate overnight. Before reheating, scrape off fat, if desired. Slice meat.  Reheat the brisket and sauce together in a 350°F preheated oven for 20 to 30 minutes.
To season, aim to use about 3/4 tsp. salt per pound of brisket. Season the meat the day before cooking for the best flavor.
If you don't have a flameproof roasting pan or other pan large enough to sear the brisket, broil the brisket instead. Line a large, rimmed sheet pan with foil and place a wire rack on top. Put the meat on rack, fat-side up. Broil about 3 minutes on high, until the top has browned. After broiling, turn the oven to 350°F. Reduce oil to 1 Tbsp. to cook the onions.
Nutrition Information: Per Serving (1/10 of recipe)
Calories 530, Total Fat 33g, Saturated Fat 12g, Cholesterol 165mg, Sodium 790mg, Protein 47g, Total Carbohydrates 10g, Dietary Fiber 2g