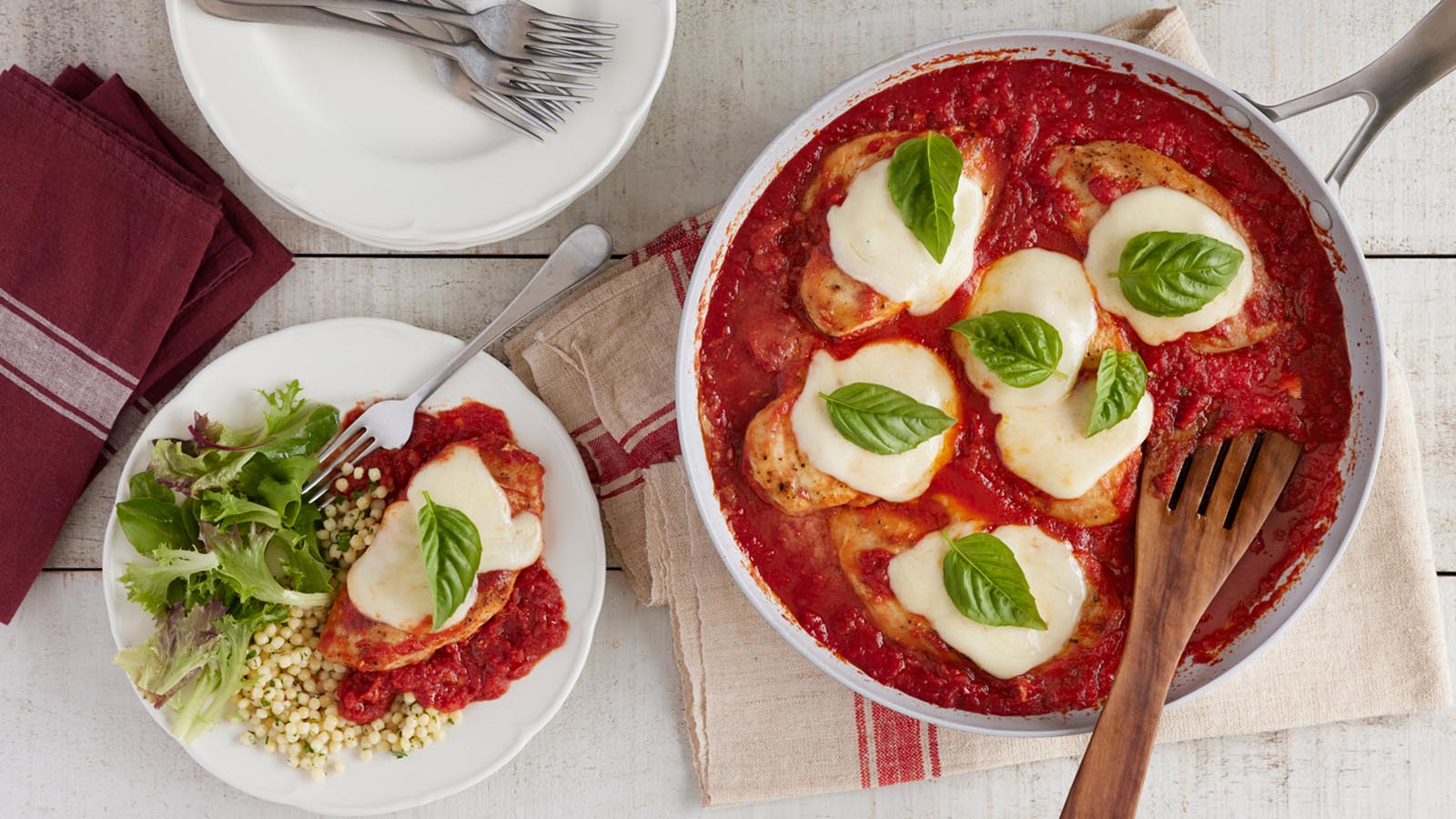 A simple fresh basil leaf placed over the melted mozzarella on each chicken piece makes a stunning presentation. Serve over veggie noodles, couscous, riced cauliflower, pasta or rice or as a hearty dinner sandwich. Try the eggplant version for a tasty meatless meal. When possible, consider cooking with organically grown and responsibly raised ingredients to benefit the quality of your meal and the health of our planet.
Prep Time: 5 minutes
Cook Time: 30 minutes
Serves: 6
Ingredients
6 thin-cut boneless, skinless chicken breast halves (about 4 oz. each)
1 tsp. garlic powder
Salt and freshly ground black pepper
1 Tbsp. olive oil
1 can (28 oz.) Take Root Organics™ Crushed Tomatoes
1/4 cup Take Root Organics™ Tomato Paste
1 tsp. dried oregano
1 tsp. granulated sugar
1/4 tsp. salt
6 slices mozzarella cheese (fresh or deli sliced)
6 large fresh basil leaves
Directions
Season chicken on both sides with garlic powder, salt and pepper. Heat oil in a 12-inch skillet over medium-high heat. Add chicken in single layer and cook 5 to 7 minutes until browned on 1 side. Meanwhile, combine crushed tomatoes, tomato paste, oregano, sugar and salt in a medium bowl.
Flip chicken, then top with tomato mixture. Simmer, uncovered, 15 minutes over medium-low heat. Remove pan from heat; place a slice of cheese on each. Cover about 5 minutes for cheese to melt. Place a basil leaf on each piece of cheese just before serving. Serve over veggie noodles, pasta, couscous, rice or in a toasted sandwich roll.
VARIATION: To make Quick Eggplant Mozzarella Sandwiches For 4, prepare recipe as directed above, except substitute 1 lb. eggplant, cut lengthwise into 4 slices, in place of chicken and use 4 slices of mozzarella cheese and 4 basil leaves. 
TIPS:   
If thin-cut chicken breasts are unavailable, slice 3 large chicken breast halves in half horizontally to about 1/2-inch thickness to create 6 pieces. 
Place basil over cheese right before serving, as it will turn dark with the heat in a few minutes.