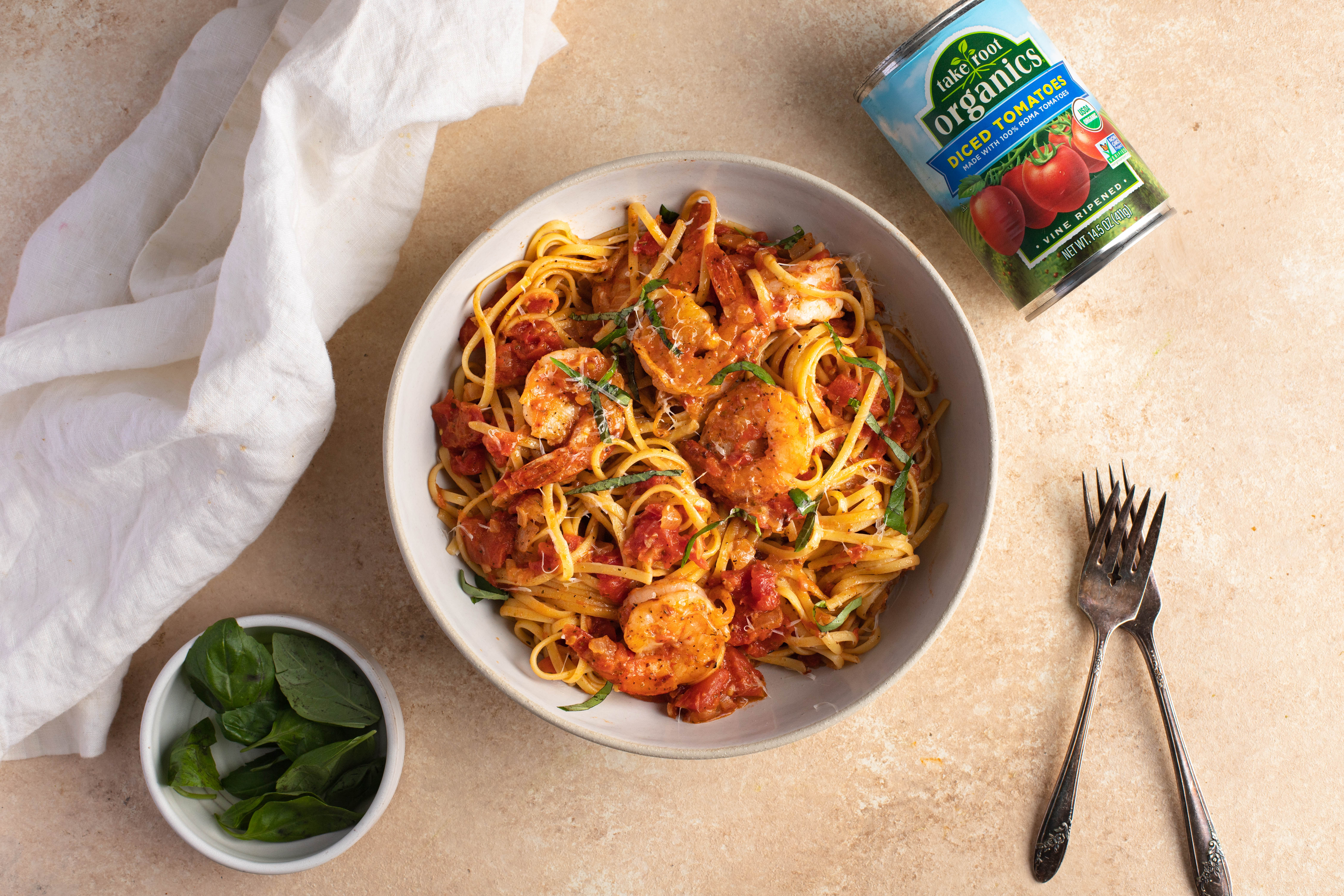 Recipe created by: Food Heaven - Wendy & Jess, RDS
Make a comforting and hearty pasta bowl with a little kick of spice. The perfect pairing of flavors.
Prep Time: 10 minutes
Cook Time: 35 minutes
Serves: 4
Ingredients
21 ounces Take Root Organics™ Diced Tomatoes (about 1½ cans)
8 ounces linguine
1/4 cup olive oil, divided
Salt and pepper to taste
1 lb shrimp, peeled and deveined
2 tablespoons butter
1 small onion, diced
4 garlic cloves, minced
1 teaspoon Italian seasoning blend
Pinch of red pepper flakes
1/3 cup grated Parmesan
Fresh Basil for serving
Directions
Cook pasta al dente according to the instructions on the package. Before draining the pasta, reserve ¾ cup pasta water. Set aside.
Heat 2 tablespoons of the olive oil in a large heavy bottomed skillet over medium heat. Season the shrimp lightly with salt and pepper. Place the shrimp in the skillet and cook for 1-2 minutes per side, or until cooked all the way through.
Once the shrimp are done cooking, remove them from the skillet. Add the remaining olive oil, along with the butter to the skillet. Once the butter and olive oil begin to bubble, add the onions and simmer until they start to soften and brown, about 5 minutes. Add the garlic to the skillet and simmer until fragrant, about 1 minute or so.
Add the Italian seasoning and red pepper flakes, followed by Take Root Root Organics™ diced tomatoes. Bring the tomato mixture to a boil, then reduce the heat to low and simmer for 10-15 minutes. Smash the tomatoes with the back of a wooden spoon while cooking. Stir occasionally. The tomato sauce should start to thicken and become "jammy". At this point season with salt and pepper to taste.
Add the pasta along with the pasta water, and grated parmesan cheese to the skillet. Toss the pasta to allow it to absorb the sauce.
Serve with fresh basil and more parmesan cheese if desired. 
TIP: Add more red pepper flakes for extra spice.