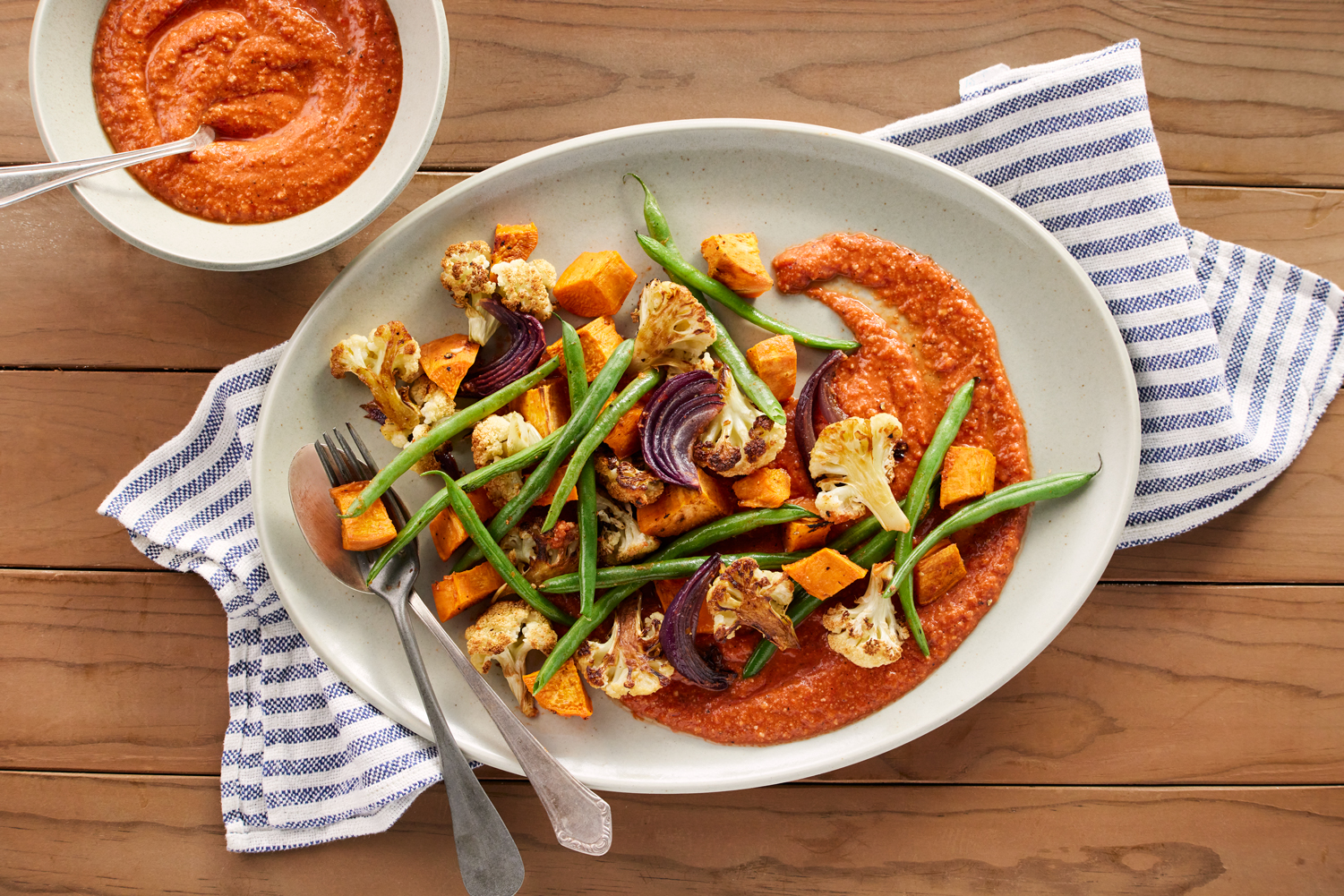 This flavorful Catalonian sauce is incredibly versatile: use it as a dip, a sandwich spread, or as a sauce for pasta, roasted vegetables, roasted chicken, pork or beef and grilled seafood.
Prep Time: 10 minutes
Cook Time: 25 minutes
Makes: 3 cups
Ingredients
2 large red bell peppers, (8 oz. each)
1 slice white sandwich bread, crusts removed
1/4 cup slivered almonds
1 clove garlic, unpeeled
1 can (14.5 oz.) Take Root Organics™ Crushed Tomatoes Fire Roasted
4 tsp. sherry vinegar or red wine vinegar
1 tsp. smoked paprika
1/4 tsp. cayenne
1 1/4 tsp. kosher salt
3 Tbsp. olive oil
Directions
Set oven rack to upper third of oven and preheat broiler to high. Line a rimmed baking sheet with foil and place bell peppers on top. Broil about 15 minutes, using tongs to turn the peppers periodically, until blackened on all sides. Transfer to a bowl, cover, and let steam 10 minutes.
Place bread on same baking sheet. Broil 15 to 20 seconds per side until both sides are just golden. Alternatively, toast bread in toaster.  
Cook almonds and garlic in a small skillet over medium heat 7 to 8 minutes, stirring occasionally, until golden brown. Transfer to a plate; let cool 5 minutes. 
Peel bell peppers and remove stems and seeds. Tear bread into 1-inch pieces. Peel garlic. 
Add almonds, bread and garlic to bowl of a food processor. Process about 40 seconds until finely chopped. Add peppers, tomatoes, vinegar, paprika, cayenne and salt. Process about 10 seconds until combined, scraping down sides of bowl as needed. With processor running, pour in oil until mixture is emulsified.
TIP: When tossing Romesco Sauce with roasted vegetables, use  about 1 cup sauce for every 5 to 6 cups of cooked vegetables, such as roasted sweet potatoes, cauliflower, green beans and red onion.