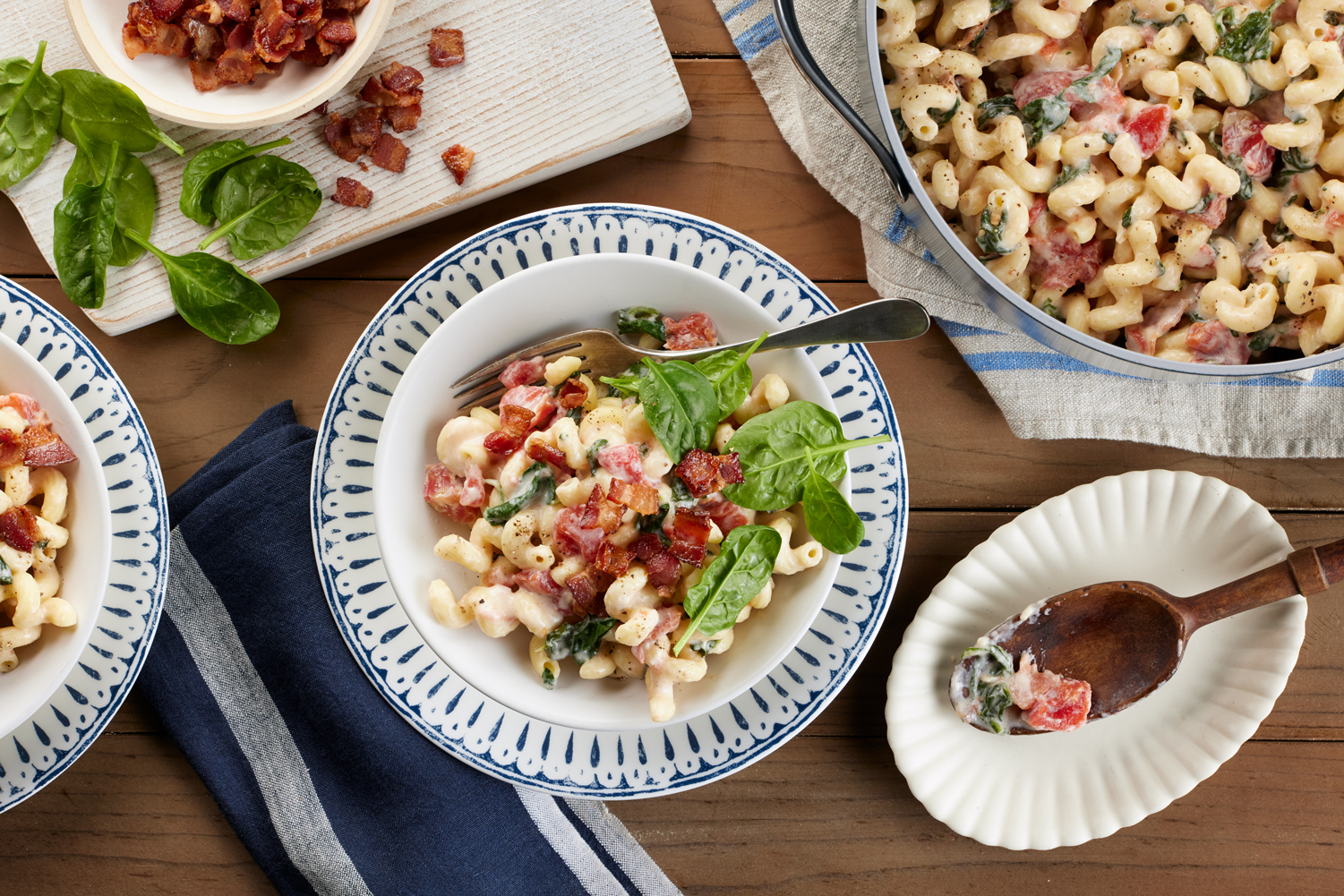 A new comfort food classic. This super family-friendly fusion of BLTs and mac and cheese cooks all in 1 pot for less clean up on busy weeknights. Ready right from the stove top or take it one step further to bake with more cheese and panko breadcrumbs on top.
Prep Time: 15 minutes
Cook Time: 30 minutes
Serves: 4 to 6
Ingredients
8 oz. bacon, diced
4 cups reduced-sodium chicken broth or water
2 cups 2% or whole milk 1 lb. uncooked cavatappi or rotini pasta
2 cans (14.5 oz. each) Take Root Organics™ Diced Tomatoes, well drained
12 oz. white Cheddar cheese, shredded (about 3 1/2 cups)
4 oz. cream cheese, cubed
5 oz. baby spinach, reserve 1/4 cup as whole leaves and coarsely chop the rest (about 5 cups)
Freshly ground black pepper, to taste
Directions
Cook bacon in a Dutch oven over medium heat 10 to 12 minutes, until crisp. Using a slotted spoon, transfer to a paper towel-lined plate. Pour off all the fat from the pot and wipe out any remainder with a paper towel. 
Bring broth and milk to a boil over medium-high heat. Stir in pasta and cook according to package directions until tender, stirring frequently. DO NOT DRAIN. During last 2 minutes of cooking, stir in tomatoes and all but 1/4 cup of the cooked bacon. 
Reduce heat to medium-low and add cheeses; stir constantly until melted. Stir in spinach; let stand 5 minutes for sauce to thicken and spinach to wilt. Season to taste with salt and pepper. Serve garnished with reserved spinach leaves and 1/4 cup bacon.
Variation: For Baked Mac & Cheese preheat oven to 400°F. Prepare recipe as directed, then transfer pasta mixture to a greased 9x13-inch pan. Sprinkle an additional 4 oz. Cheddar on top, followed by 1/2 cup panko bread crumbs. Bake, uncovered, 15 to 20 minutes until cheese and panko are golden brown. Garnish with reserved spinach leaves and bacon. 
Tip: Save any drained tomato juices not used in recipe to flavor other dishes, thin sauces and more. Store juices in a separate closed container 2 days in the refrigerator, or 2 months in the freezer. Tomato juices can be used in sauces, roasts, soups, stews, braises, beverages, slow cooker dishes, chili, grains, beans and more.