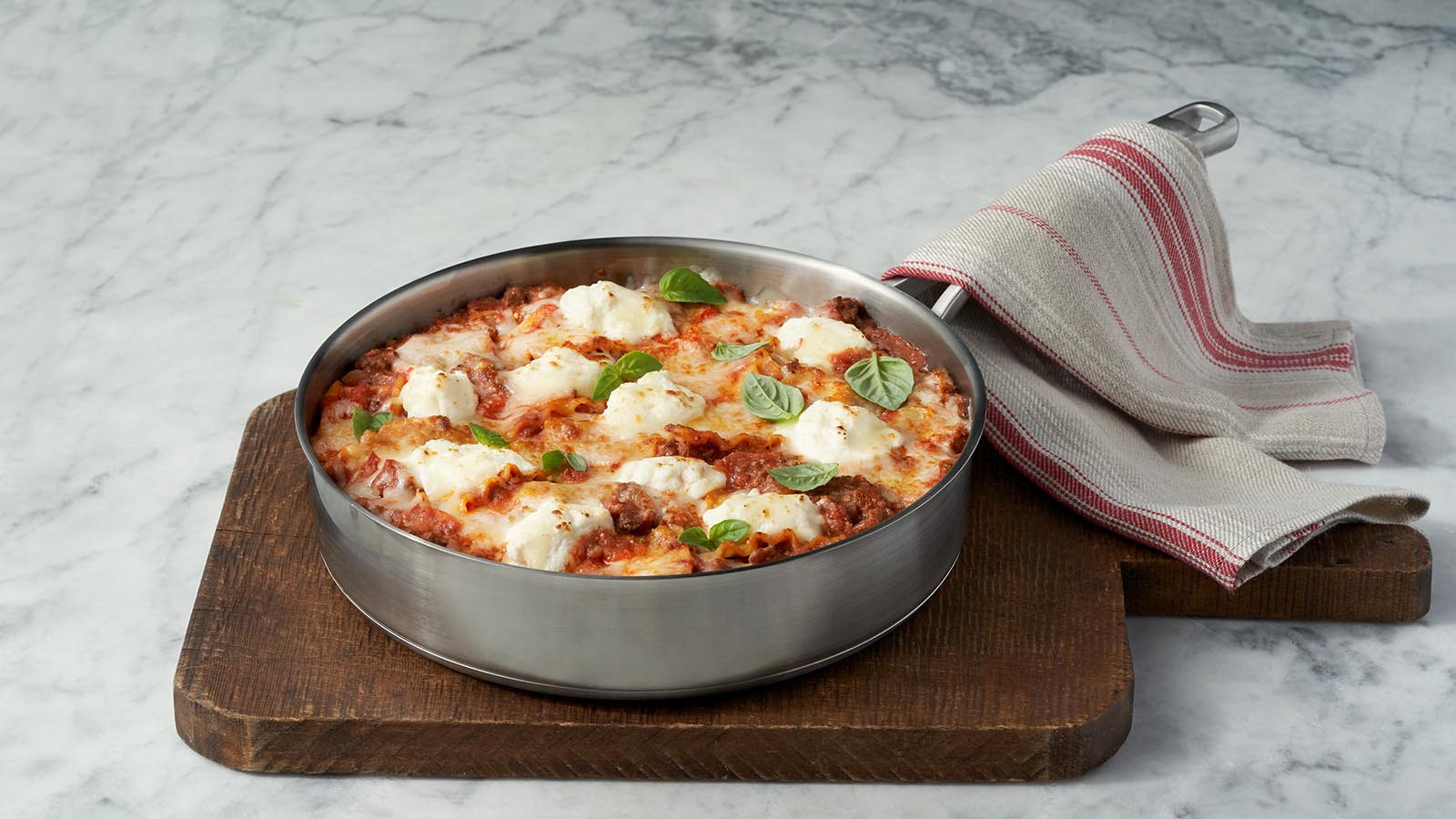 This comforting, three-cheese lasagna is made all in 1 pan which makes it easy to make and clean up on a weeknight! When possible, consider cooking with organically grown and responsibly raised ingredients to benefit the quality of your meal and the health of our planet.
Prep Time: 10 minutes
Cook Time: 40 minutes
Serves: 4
Ingredients
2 Tbsp. olive oil
1 lb. lean ground beef
1/2 cup diced onion
1/2 cup diced onion
1 tsp. salt
1 tsp. minced garlic
1 tsp. dried oregano
1 Tbsp. red wine vinegar
1 can (28 oz.) Take Root Organics™ Crushed Tomatoes
8 oz. uncooked lasagna noodles (about 10), broken up into 1 1/2 to 2-inch pieces
3/4 cup ricotta cheese, divided
Freshly ground black pepper
1 cup shredded mozzarella cheese
1/4 cup grated Parmesan cheese1/4 cup thinly sliced fresh basil leaves
Directions
Heat oil in a 12-inch skillet over medium-high heat. (If you'd like to brown lasagna under the broiler before serving, use an oven-safe skillet.) Add beef, onion, salt, garlic and oregano; cook 5 to 6 minutes, breaking the meat up into small pieces, until beef is cooked through. Add vinegar and cook 1 minute.
Stir in tomatoes and 3 cups water; bring to simmer. Stir in noodles and simmer 20 to 25 minutes over medium heat, until noodles are tender, scraping the bottom of the pan with a wooden spoon frequently to prevent sticking and making sure the noodles are always submerged in sauce.
If broiling, preheat broiler. Remove skillet from heat. Stir in 1/4 cup of ricotta. Season to taste with salt and pepper. Use a small spoon to dollop remaining 1/2 cup ricotta over the lasagna (do not stir). Sprinkle with mozzarella and Parmesan; cover and let sit until cheese is melted, about 5 minutes. If broiling, place under the broiler uncovered about 4 minutes until cheese is melted and golden-brown in spots. Sprinkle with basil and serve.