Italian Sausage Chili Bowls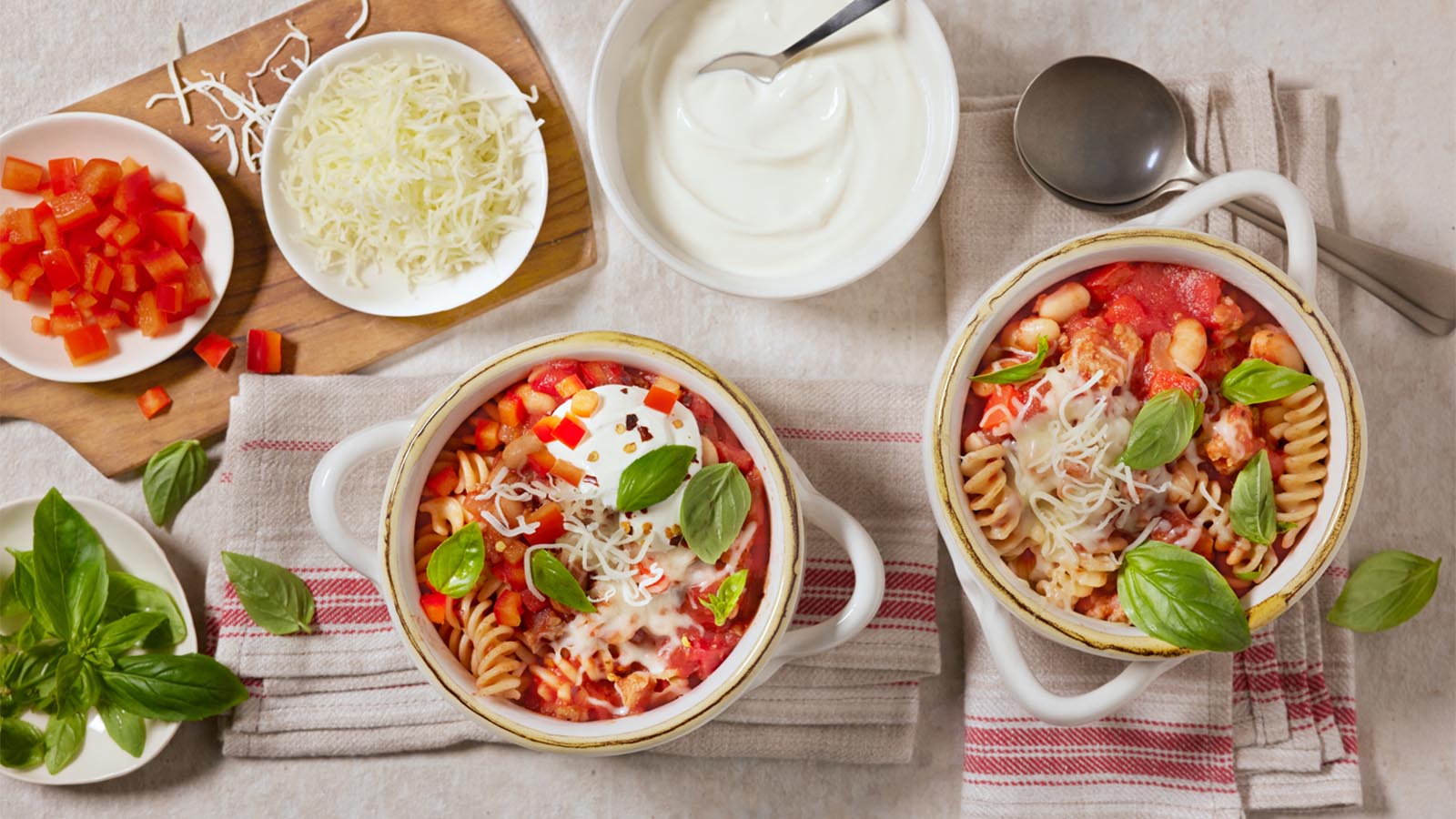 Here's a delicious Italian twist to a favorite American dish. Italian sausage chili served over pasta with tons of toppings makes a delicious chili mac bowl. When possible, consider cooking with organically grown and responsibly raised ingredients to benefit the quality of your meal and the health of our planet.
Prep Time: 10 minutes
Cook Time: 35 minutes
Serves: 6
Ingredients
1 lb. mild or hot Italian sausage, casings removed
1 cup chopped onion
1 medium red bell pepper, chopped, optional
1/4 to 1/2 tsp. dried red pepper flakes, to taste
1 can (28oz) Take Root Organics™ Diced Tomatoes, not drained
1 can (8 oz.) Take Root Organics™ Tomato Sauce
1 can (15 oz.) cannellini beans, rinsed and drained
1 1/2 tsp. dried Italian seasonings
2 Tbsp. chopped fresh basil, plus more for topping
12 oz. uncooked rotini pasta, cooked according to package directions
Toppings:
• Shredded Mozzarella Cheese
• Sour Cream
• Sliced green onions
• Chopped fresh basil
• Diced red or green bell pepper
• Sliced olives
• Red pepper flakes
• Splash of balsamic vinegar
Directions
Brown sausage in a Dutch oven over medium-high heat, breaking it into smaller pieces using a wooden spoon. Drain any excess fat.
Add onion, bell pepper and red pepper flakes; cook 3 to 5 minutes or until onion is softened. Stir in diced tomatoes, tomato sauce, 1 cup water, beans and Italian seasonings. Bring to a boil over high heat; cover and simmer on medium-high 15 minutes, stirring occasionally. Remove lid and cook about 5 minutes, stirring frequently, until slightly thickened.
Stir in basil. Toss hot cooked pasta with 1 cup chili. Divide pasta among bowls, top with chili and serve with toppings, as desired.