Fire Roasted Tomato Peperonata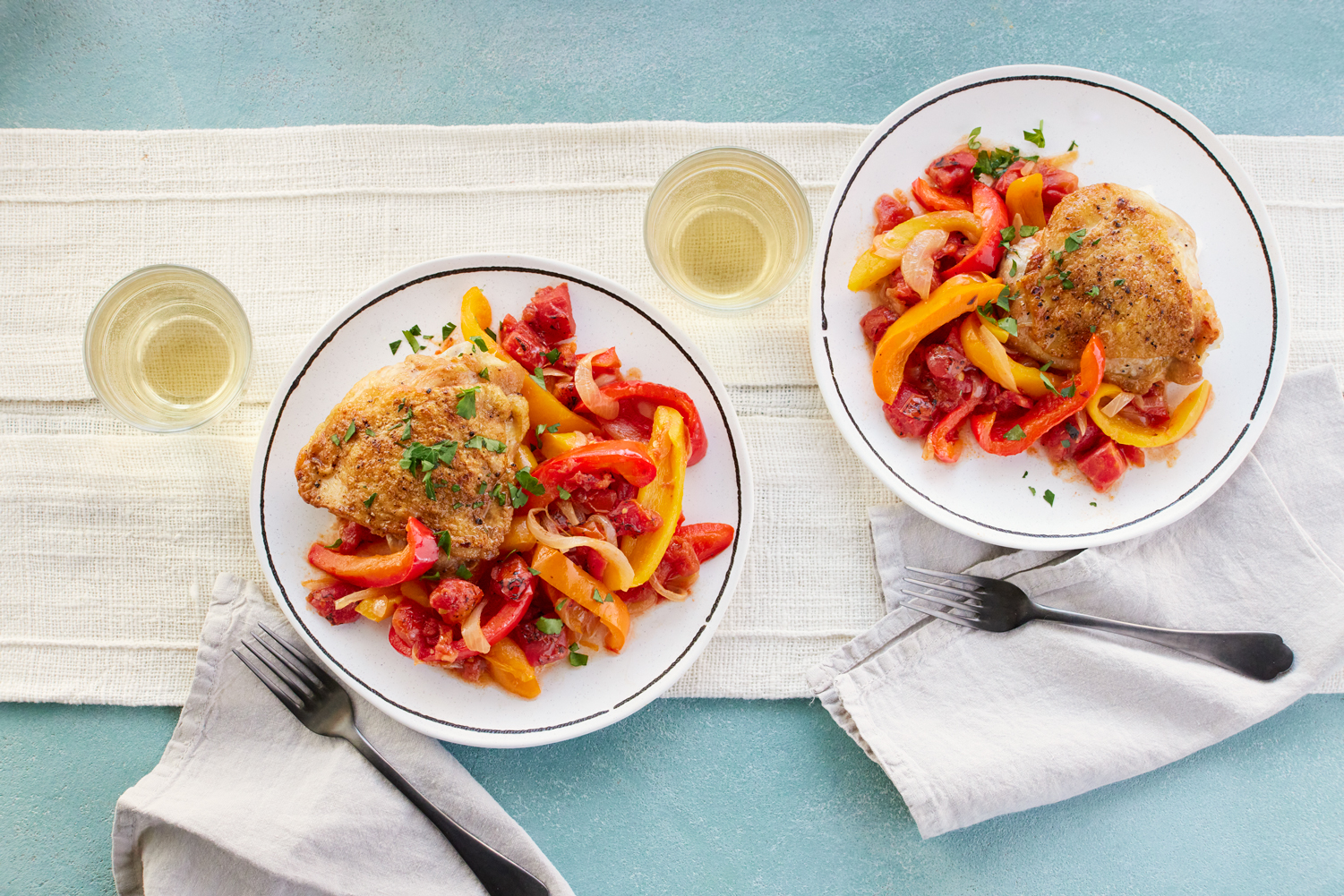 Fire Roasted Tomatoes draw out the sweetness of the peppers in this classic southern Italian dish. Serve peperonata at room temperature or lightly chilled as a side dish alongside roasted chicken, sausages, or pork, toss with pasta or use to top ricotta or goat cheese crostini.
Prep Time: 20 minutes
Cook Time: 20 minutes
Serves: 8
Ingredients
3 Tbsp. olive oil
1 medium yellow onion, sliced
Kosher salt
4 cloves garlic, thinly sliced
1/4 tsp. red pepper flakes
6 medium bell peppers (a mix of red, yellow and orange), cored, seeded and cut into 1/2-inch wide strips (12 cups)
1 can (28 oz.) Take Root Organics™ Diced Tomatoes Fire Roasted, drained
2 Tbsp. red wine vinegar
1/4 cup chopped fresh flat-leaf parsley
Directions
Heat oil in a large saucepan over medium heat. Add onion and a pinch of salt and cook about 4 minutes until slightly softened. Stir in garlic and red pepper flakes and lightly cook no longer than 30 seconds until fragrant. 
Add bell peppers and a few pinches of salt and cook about 10 minutes until the peppers begin to soften. Add the tomatoes and cook 5 to 6 minutes, stirring often, until tomato pieces cling to the peppers and the peppers are cooked. (You will have about 7 1/2 cups peperonata.)
Stir in vinegar and parsley. Season to taste with salt.  (The flavors should be assertive because the peperonata is not served hot.) Let cool to room temperature before serving. Alternatively, refrigerate overnight for flavors to develop further and serve slightly chilled or at room temperature. 
TIP: Save any drained tomato juices to prepare other dishes such as tomato sauces, roasts, soups, stews, braises, chili, beans, grains, slow cooker dishes and beverages.