Fire Roasted Tomato Chicken Enchiladas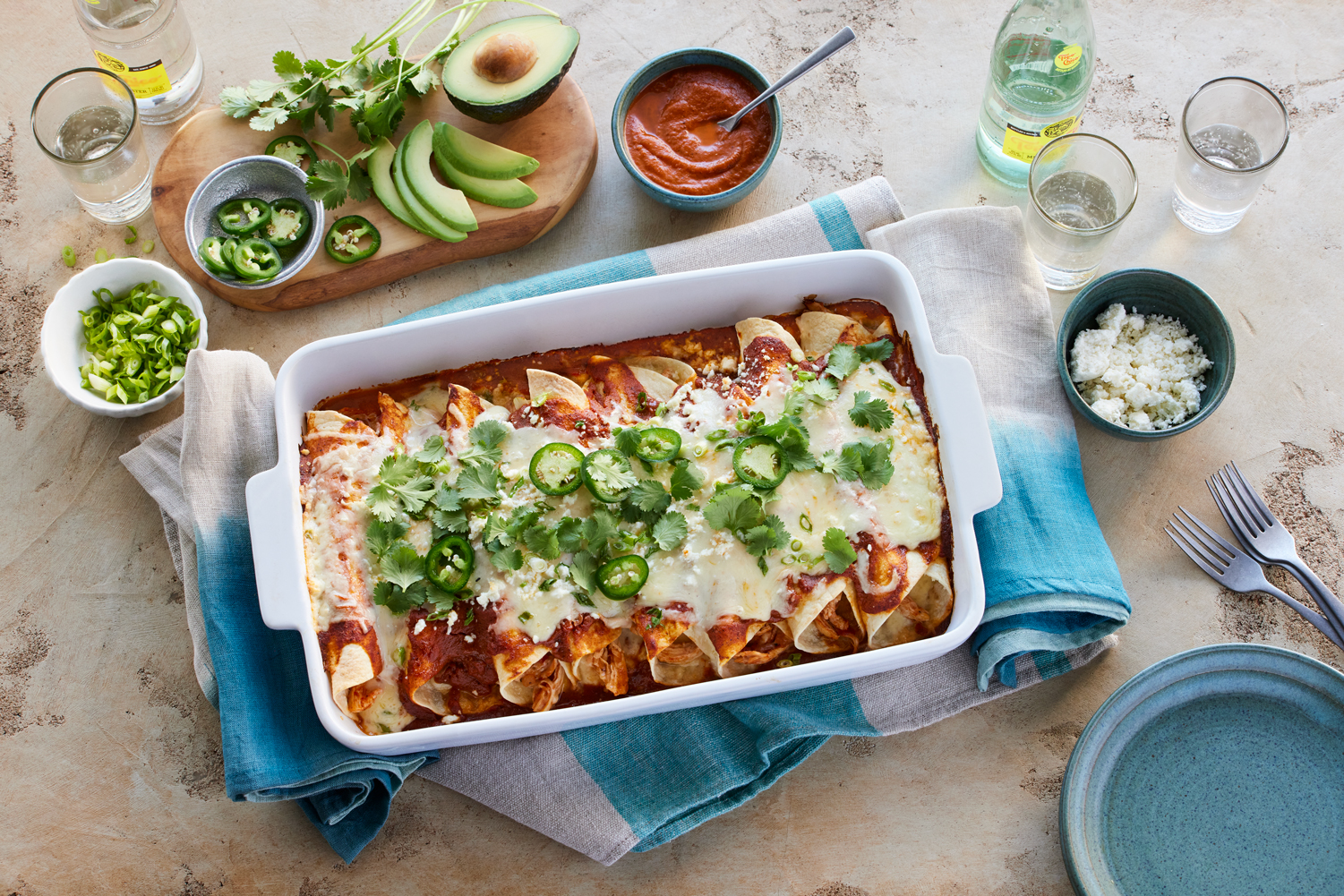 Fire Roasted Tomatoes add deep flavor to this ancho-infused tomato enchilada sauce. Extra sauce can be served on the side or save it to use on tacos or quesadillas.
Prep Time: 30 minutes
Cook Time: 45 minutes
Serves: 8
Ingredients
2 Tbsp. vegetable oil
1 medium yellow onion, finely diced (2 cups)
1 tsp. kosher salt, plus more to taste
4 or 5 large cloves garlic, minced
2 tsp. ground dried ancho chile (see TIPS)
1/2 tsp. cayenne, optional
1/2 tsp. cumin
1/2 tsp. dried oregano
1 can (28 oz.) Take Root Organics™ Crushed Tomatoes Fire Roasted
1 can (4 oz.) diced green chiles, not drained
8 (8-inch) flour tortillas
4 cups cooked, shredded chicken or turkey (see TIPS)
4 cups grated Monterey Jack cheese (12 oz.)
2 green onions, sliced thinly, plus more for garnish
1/2 cup grated Cotija cheese (2 oz.)
1/2 cup cilantro sprigs, optional
Directions
Heat oil in a large saucepan over medium heat. Add onion and a pinch of salt and cook about 5 minutes until softened and just starting to brown. Stir in garlic, ancho chile, cayenne, cumin and oregano and cook no longer than 30 seconds, just to toast the spices. Add tomatoes, green chiles, 1 cup water and 1 tsp. salt; bring to a brisk simmer over high heat. Lower heat to medium-low and cook about 10 minutes, stirring occasionally, until the sauce is nearly thick enough for a wooden spoon to stand up.  Season to taste with salt. Set aside and let cool to room temperature.
Preheat oven to 350°F. Warm tortillas in a dry skillet no longer than 40 seconds per tortilla over medium-high heat, flipping once, until softened; stack on a plate and cover with a kitchen towel to keep from drying out. In a large bowl, mix chicken with 3/4 cup sauce.
To assemble, spread 1/2 cup sauce on the bottom of a 9 x 13-inch baking dish. For each tortilla, place 1/2 cup chicken and 1/4 cup Jack cheese down the center. Roll up snugly and place seam-side-down in the dish. Spread 2 1/2 cups sauce over the top of the rolled tortillas and bake about 15 minutes until the sauce has darkened slightly and any exposed bits of tortilla have started to brown. Remove from oven and top with green onions, Cotija and remaining 2 cups Jack cheese. Return to oven; bake about 15 more minutes until the cheese has melted. Serve with cilantro, green onions and any remaining sauce on the side.
TIPS:
If ground ancho chiles are hard to find, ground New Mexico or guajillo chiles can be used. 
The meat from one rotisserie chicken averages 4 cups. Alternatively, use shredded leftover holiday turkey.
Sauce may be made up to 3 days in advance. Store sauce in the refrigerator up to 5 days or freeze up to 1 month. Bring the sauce to room temperature before assembling the enchiladas.