Cast-Iron Skillet Baked Beans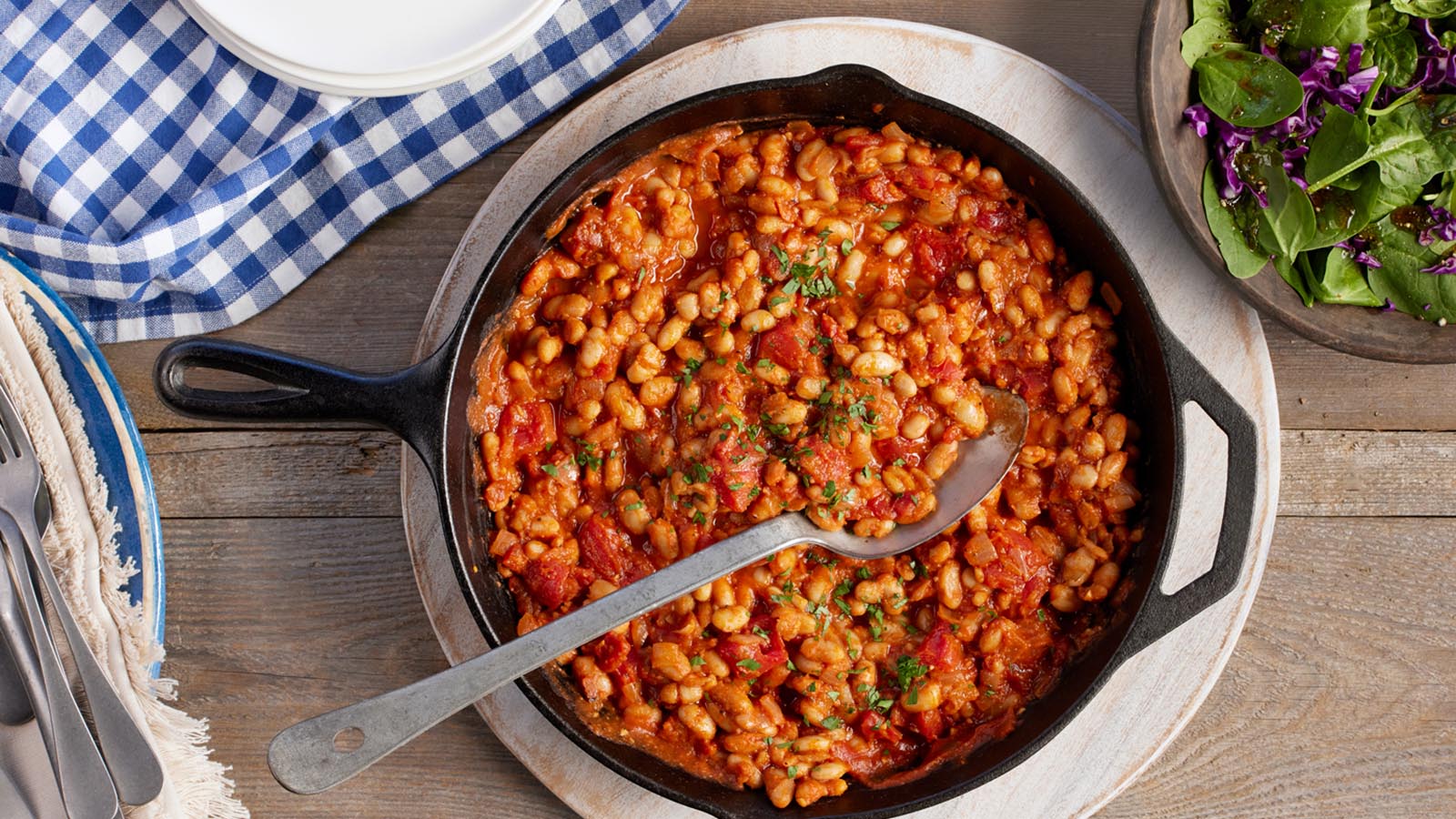 Craveable, smoky-sweet-savory-tangy flavors enrich this American classic side dish made with tomatoes and white beans. Easy ingredient swaps make three global-inspired twists to complement just about any barbecue or potluck menu. When possible, consider cooking with organically grown and responsibly raised ingredients to benefit the quality of your meal and the health of our planet.
Prep Time: 15 minutes
Cook Time: 35 minutes
Serves: 8 to 10
Ingredients
2 Tbsp. vegetable oil
1 large yellow onion, chopped (2 cups)
Salt and ground black pepper, to taste
3 cloves garlic, minced
1/4 cup Take Root Organics® Tomato Paste
1 can (14.5 oz.) Take Root Organics® Diced Tomatoes, not drained
1/4 cup brown sugar
1 Tbsp. Worcestershire sauce
1 Tbsp. apple cider vinegar
2 tsp. Dijon mustard
1 tsp. smoked paprika
1/2 cup water
3 cans (15.5 oz. each) low-sodium navy, white, or great northern beans, rinsed and drained
Chopped flat-leaf parsley, optional
Directions
Preheat oven to 400°F. Heat oil in a 12-inch cast iron or other ovenproof skillet (see Tip). Add onion, season with salt and pepper and cook about 5 minutes, stirring occasionally, until lightly browned. 
Add garlic and tomato paste; cook about 1 minute, stirring constantly, until paste darkens slightly. Add diced tomatoes, brown sugar, Worcestershire sauce, vinegar, mustard, paprika and water; bring to a boil. Stir in beans and bring to a simmer. 
Turn off the heat and transfer skillet to the oven. Bake 25 to 28 minutes until the sauce has thickened. Stir and sprinkle with parsley before serving, if desired.
TIP: In place of a 12-inch skillet, use a 3-inch deep 10-inch oven-proof skillet.
VARIATIONS: Prepare recipe as directed, except:
For Korean BBQ-Inspired Beans: Replace vinegar, mustard and paprika with 2 Tbsp. Gochujang, 2 Tbsp. soy sauce and 2 tsp. toasted sesame oil; garnish with toasted sesame seeds and sliced green onions in place of parsley.
For Smoky Mexican-Inspired Beans: Omit mustard and add 1 tsp. ground cumin and 1/2 to 1 whole chipotle pepper from canned chipotles in adobo sauce, chopped; garnish with chopped cilantro in place of parsley. 
For Spicy Italian-Inspired Beans: In addition to all other ingredients, add 1/2 tsp. red pepper flakes, 1/2 tsp. dried oregano and 2 Tbsp. balsamic vinegar; garnish with parsley.
Nutrition Information: Per Serving (1/8 of recipe)
Calories 200, Total Fat 3.5g, Saturated Fat 0g, Cholesterol 0mg, Sodium 160mg, Protein 8g, Total Carbohydrates 35g, Dietary Fiber 8g