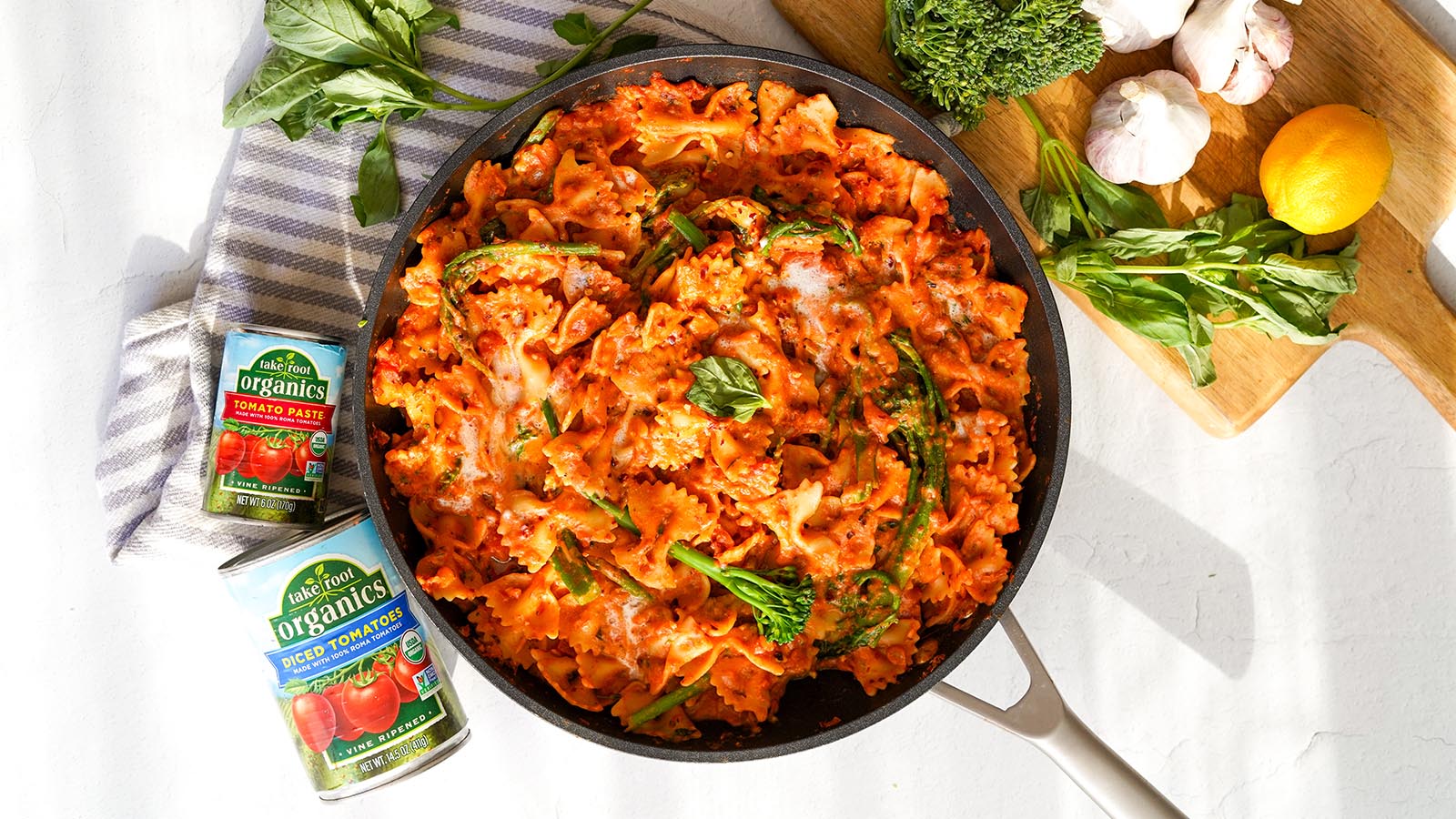 Recipe created by: Carleigh Bodrug
This simple weeknight pasta dinner is ready in just 15 minutes with a tasty mix of tomatoes, broccolini, onion and spices. When possible, consider cooking with organically grown and responsibly raised ingredients to benefit the quality of your meal and the health of our planet.
Serves: 4
From Start To Finish: 15 Minutes
Ingredients
16 oz farfalle pasta, or favorite pasta of choice
1 tablespoon extra virgin olive oil
1 yellow onion, minced
3 cloves garlic, minced
1/2 cup Take Root Organics™ Tomato Paste
1/2 cup Take Root Organics™ Diced Tomatoes
1/2 teaspoon salt
1 teaspoon red pepper flakes, optional for spice
3/4 cup reserved pasta water
3/4 cup coconut milk
1/2 lemon, juiced
10 ounces broccolini, sliced in half
Directions
Cook the pasta according to package directions until al dente. Two minutes before the pasta is ready to be drained, add the broccolini to the pot to cook as well.
In the meantime, in a large pan over medium heat, add the olive oil, onion and garlic. Sauté until the onion is translucent, approximately 3 minutes.
Add in Tomato Paste, Diced Tomatoes, salt and red pepper flakes. Stir until incorporated with the onions and garlic. 
Pour in the reserved pasta water and coconut milk. Stir until a sauce is formed, adding more pasta water as needed to thin to a desired consistency. Squeeze the lemon juice into the sauce.
At this point, lower the heat, and pour the prepared pasta and broccolini into the sauce pan. Using a spatula, carefully stir the pasta until it is incorporated with the sauce.
Enjoy immediately with more red pepper flakes, salt and fresh basil as desired.