10-Minute Blender Tomato Soup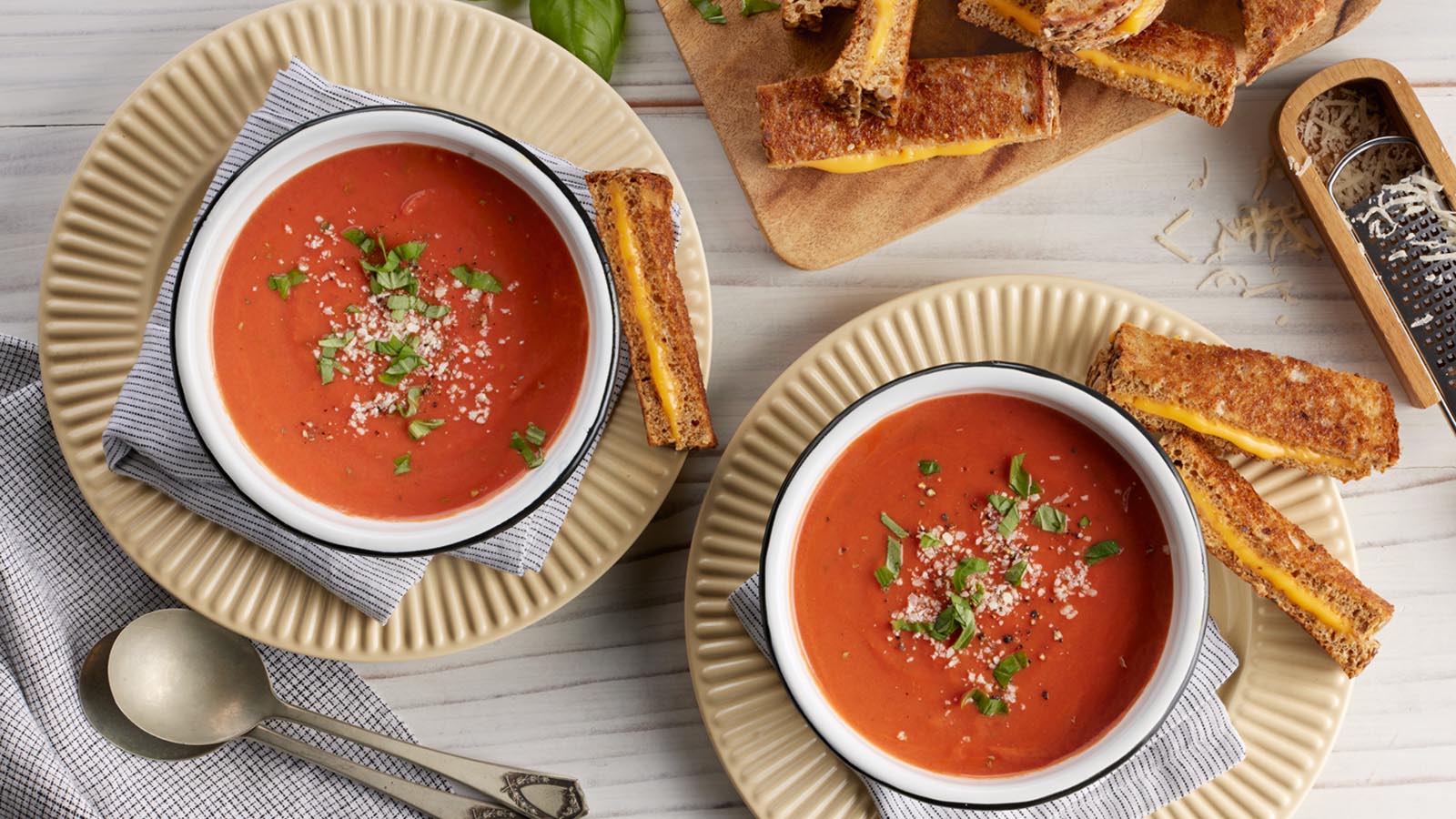 Smooth, savory homemade tomato soup cooks up in just 10 minutes. The easy 1-step blender method avoids messy batching. All you need are 6 on-hand ingredients and a bit of time to elevate this year-round favorite. Delicious with grilled cheese or tasty toppings. When possible, consider cooking with organically grown and responsibly raised ingredients to benefit the quality of your meal and the health of our planet.
Prep Time: 5 minutes
Cook Time: 10 minutes
Serves: 4
Ingredients
4 Tbsp. unsalted butter
1 large yellow onion, finely chopped
2 cloves garlic, minced
1/2 tsp. dried oregano
1 can (14.5 oz.) College Inn® 50% Less Sodium Chicken or Garden Vegetable Broth
2 cans (15 oz. each) Take Root Organics® Tomato Sauce
Topping Options: Parmesan cheese, croutons, sliced green onions, sour cream, Greek yogurt, Cheddar cheese, fresh basil, crackers or pita chips, cracked black pepper
Directions
Melt butter in a large saucepan over high heat. Add onion and cook 5 minutes, stirring constantly, until softened and starting to brown. Stir in garlic and oregano.
Transfer to a blender and add broth; blend 1 minute until smooth. Meanwhile, start heating the tomato sauce in the same saucepan over high heat.
Stir onion mixture into tomato sauce and bring to a boil. Reduce heat to medium-low and simmer 3 minutes. Thin with water if desired. Serve with toppings, as desired.
VARIATION: 
For Creamy Tomato Soup, prepare recipe as directed, except replace the broth with
1 1/4 cups water and 1/2 cup milk.
TIP: To use an immersion blender, add broth and tomato sauce to the cooked onion, garlic and oregano in the saucepan and blend before simmering.
Nutrition Information: Per Serving (1/4 of recipe)
Calories 170, Total Fat 13g, Saturated Fat 7g, Cholesterol 30mg, Sodium 1160mg, Protein 4g, Total Carbohydrates 15g, Dietary Fiber 4g